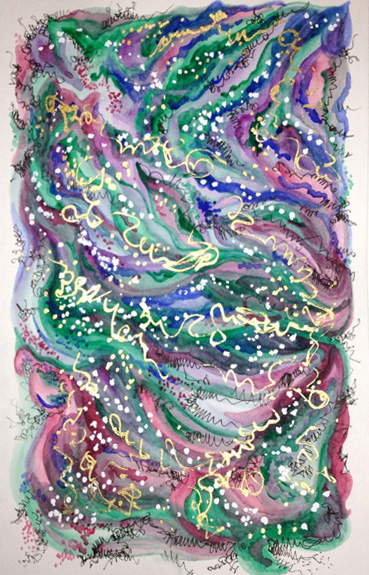 I'm ready to work on finishing the painting I started this morning. It was a day of replenishing, a day of creating, a day of doing mostly what I wanted and that is writing and painting… I love how I am changing… This time of filling is so grand, mere words cannot describe the feelings of filling with the wholeness that is ME. I love my creative words and colors and vibrations… I am appreciating the filling, appreciating the challenges, appreciating the finessing and beauty that comes from knowing what I want to believe.
The more I let others be who they are, with no judgments, the more I let myself be who I am, without judgments. Even further, the more I let things around me just happen, the more I allow the things I really want to happen.
I appreciate my life… Anything that I experienced, no matter how anyone remembers me, was a part of the recipe that became the ME I am now. It's all in the mix, it's all a benefit to who I have become. It's all important. It's all needed. It's all welcomed, not disregarded. All of me, every particle, every thought, every word, every thing I hate and anything I love, it's all a cell, an incision into the whole of me that lives and breathes. It's all important. All of my expression, whether good or bad in the others eyes, is loved by me. It's what makes me ME and I am thrilled and eager to hear what will become of accepting me as I am or as I have behaved…
I love this life of which I have been to hell and back. I love the gold pouring into my crevices. I love that I have crevices, deep dark, dungeons of vacant dead cells that are being swept clean by each brushstroke I sweep across my paper. I am in love with this process of becoming whole. I am in love with the dichotomy and teeter tawter (yes I know it's totter but I like this spelling better) of emotions and the deep dark feelings. Because those deep dark feelings are the cause of the opposite. And I relish in the wonderous worthiness that is coming. I bask in the aliveness I feel and it will increase more and more. And I enjoy the awakening and the light that is on its way. The hope for better days. The hope for my true balance to find its resting place within me. The hope of a better life and a better world, inside and out… I so enjoy a beautiful day like I have had. No interruptions or diffused energy. Just a solid, creative, joyful day of expression and clarity. I allow more. I allow the life to come. Thank you, Inner Wisdom, for being my confidant, my strength and my Source of all that I need.