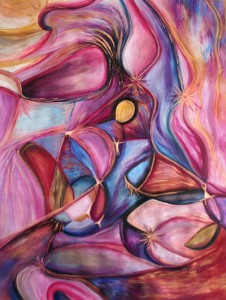 Have you ever found a friend who you could be completely yourself around? Someone who charges you up, sparks your creative juices, and brings out the best in you? Well, for me, this person is Jeanie, my roommate from art school. We have been great friends since our first day at The Art Institute of Pittsburgh in 1980. That's over three decades. And here we are posing for our "model shot." When Jeanie and I get together, she goes crazy art directing photos and we can spend all day playing around with a camera. For this shot, she came up with the idea that we would wear white, put on a lot of makeup (and lipstick, yuk), and put on our favorite earrings. Her earrings were one piece of twisted wire that she slipped through her pierced ear. Mine were the ones she made me buy at the Butterfly Museum in Niagara Falls, Canada on a previous visit to Buffalo. She said I needed to wear bigger, more fun earrings. Normally I wore the same simple earrings for months on end.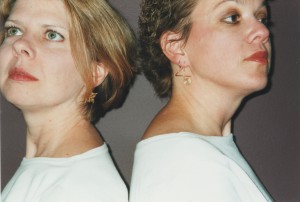 So this was the photo I used for Girl Power. First, I drew a base drawing and abstracted our features. Then I started layering and layering metallic pinks and golds and blues. While I painted this, I can remember thinking that pink represented girl power: the energy that passes between you and a true girlfriend. The positive, nonjudgmental, confident energy when your friend only has your best interest at heart. When she puts all her attention on what you have to say because she really cares about you. And this makes you do the same for her. A balanced, reciprocal friendship where you feel so energized and so much better after you talk.
This painting has lots of gold stripes of energy. I painted over most of the pastel edges and that blended so well with the acrylics. Not sure what the gold ball is in the middle, but there's something about it. It's like a glowing light that we both have when we're with each other and when we talk to each other. I gave this painting to her in 2007 and she has it hanging in her dining room next to her Monet and Renoir prints. She said it was fun telling her young boys that this was a painting Gracie did of their mom and her. They just scratched their head and looked confused. I think the adults who know this is an abstract portrait of us felt the same way. But for those of us who are interested in the unseen energy that vibrates between us, this painting can't be explained in words. It has to be felt.